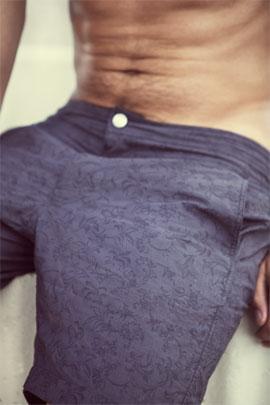 Q: MB, Seeing as how swimsuit season is quickly approaching, what's your take on compression swim shirts? Not all of us have the chiseled physique of Fight Club-era Brad Pitt. I'm not overweight, but keeping certain parts constrained could be a positive thing this summer.
—George

A: Unless you're scheduled to compete in a 4x100 relay we say leave the compression swim shirt at home. Wear one while you're swimming in a non-Olympic-size pool, and you're basically transmitting one of the following messages, or even worse, maybe both: 1) You have a third nipple, a gut, or an unfortunate tattoo, and you're very self-conscious about it. 2) You really really want to beat that third-grader in a race to the deep end.

In other words, wearing a compression shirt in a non-competitive environment is like Donald Trump's combover, except worse. In both cases, the cure is worse than the disease.

As for swim shorts, we like Onia this season. Super simple, solid color and subtle print trunks and board shorts made in New York City from top-notch Japanese technical fabric. The fitter you are, the better they'll look, but they are somewhat more forgiving than, say, Parke and Ronen while staying safely away from the sort of baggy, over-the-knee style favored by The Situation.

Use the code onia20 to get 20% off your order. Here are some more pics for a closer look.