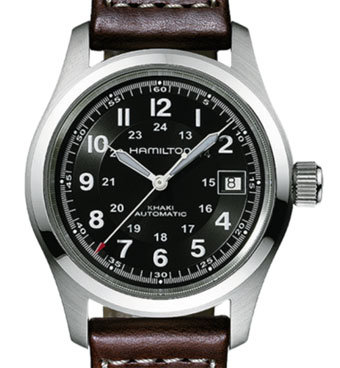 Help! Previous "ask the MB" here (from all the way back in 2010 about the office booze cruise). I'm in need of fantastically MB watch for general use and upcoming wedding I will be attending. Sadly, both previously suggested O&W's are out of stock. I'm not a watch fanatic and go cross-eyed looking on watch forums for suggestions. Are there any other military inspired sub 40mm watches you recommend? What about this Hamilton?
Thanks. And by the way, the minimum viable wallet rocks. And these ties are 10/10 quality.
—Wade
A: First, thanks for the comments on our gear. We agree! We're diligently working on a couple other things we can't wait to show off.
As for that Hamilton, while it fulfills the size and movement requirements, the dial is waaaaay TTH. Partial seconds? That's reserved for NBA shot clocks and the Olympics. And by our count there are 37 numbers, which is 1133% more legibility than the minimalist O&W Kartago (three).
We're not sure when the wedding is, but a timepiece isn't as necessary as, say, pants. Don't settle. Westcoastime assures us the O&W M-65 will be back in stock by the end of June (2018). That's a good watch. If you can wait a while longer, we're in contact with Mr. Wajs — the "W" in O&W — and negotiating on a small run of the Kartago to put in the shop.