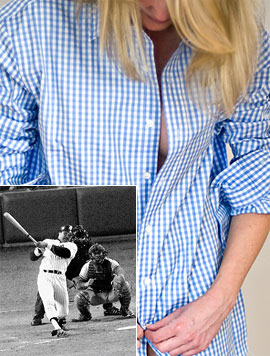 Q: So I've got a work boat cruise party coming up in the middle of October (I live in Virginia). I'm at a loss of what to wear. I'm starting with a pair of AG's, a nice pair of not too pointed/not too square black Clarks loafers I'm at a loss of how to be bastardly magnificent at this point. I've got the Carolina Blue Gingham Shirt, but I'm wondering if maybe a solid shirt/tie and a simple blazer might knock it out of the park. It's easy to put in barely any effort to stand out style wise with engineers, but really looking to set myself apart. Thanks!!!
--Wade

A: We're on record advocating for gingham as a year-round pattern, so definitely wear that shirt.

If you really want to hit it out of the park -- essentially becoming your office's Mr. October -- pair it with a brown corduroy blazer, like this one from Banana ($198), or this one from J. Crew ($138), or if you're flush this one by Etro ($990). It's the cocktailing equivalent of mixing ginger into bourbon lemonade; you're hitting the appropriate fall notes while your shirt and leisure activity read summer (and you can wear that blazer for the next 5 months).

Suddenly we're very thirsty.

UPDATE: The J. Crew version is now on sale for $99, $109 for Tall.