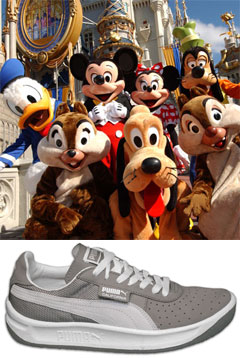 Q: This is a time-sensitive request, so hopefully you will publish an answer soon. I am convinced other fathers will have the same question. I will be taking the kids to Disney World in December and was wondering what a Magnificent Bastard can wear on his feet for all that walking that will send the appropriate level of Magnificent Basterdness to the Crocs-wearing dads I am destined to see there. I don't want my feet to hurt, but I also don't want to look like...well you know what I would look like in Crocs or a similar kind of "shoe." Of course they can't be dressy because it's about as casual a vacation we can go on...short of spending all of our time on a beach, but I am sure Bastards such as yourselves can solve my problem.
--Jeff from Illinois

A: Jeff, first off, relax! Disney World is the one place on the planet where wearing a Tommy Bahama shirt may qualify you as the coolest guy in the room. Or to put it another way: If your goal as an MB-in-training is merely to outdo some Crocs-wearing stroller-pusher from Topeka, well, you're setting the bar kind of low! But what the hell -- baby steps, right?

Browse our shoe channel and you'll note our interest in classic sport shoes. In fact, visit the MB-recommended classicsportshoes.com and just about anything will do, though we seem to always end up in Adidas or Puma. One of our all-time faves is the difficult-to-find Puma California EXT, available in 8.5, 9, 10, and 10.5. And don't mess up the socks. Go for no-show or none at all.