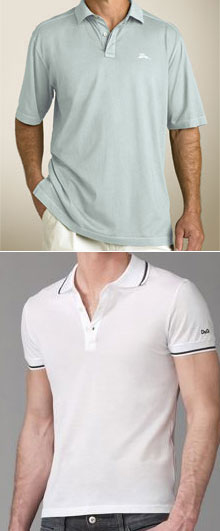 Q: I like belts, but the only way to show one off is to tuck your shirt in. That works with some shirts, but not all. What shirts do you think can be tucked without looking bad? What thoughts do you have specifically on tucking polo shirts?
--Dustin

A: We have addressed this issue before to some degree with a post entitled "The Tyranny of the Untucked Sport Shirt," and demonstrated different ways of making "tucked-in" work in an MB way.

Regarding polos, sport shirt rules apply: use the shirt's length as a tuck-in guide. For example, the poor fella in the Tommy Bahama polo (top) needs to either tuck it or move down two sizes. Or better yet, change brands. On the other hand, the fitted D&G pique polo (bottom) demands to be untucked.

Make sense?