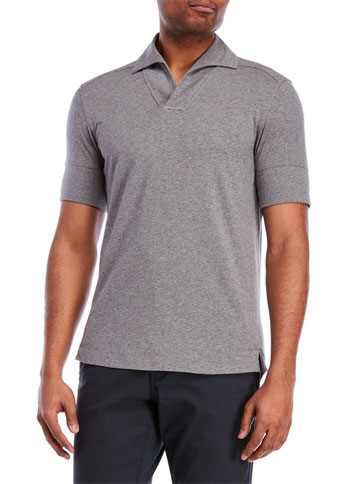 About this time a year ago, "luxury athlesiure" company Kit and Ace closed all its US stores to focus on online retail.
But let's face it — bricks and mortar, online, it doesn't matter. In Donald Trump's America, where employment is at record highs, and coal-miners and factory workers alike are working overtime so they can buy more Berkshire Hathaway shares, no one has time "luxury athleisure." There are capital gains to be had!
So now K&A stuff is showing up on Century 21 at 85% off.
While most of it doesn't fit our aesthetic, their Crossover Polo is an interesting twist on a classic. Made from 10% cashmere, it reminds us of our own Cashmarello Easy Shirt — except that at $15 a pop, you can get 16 for what you would have had to pay for an Easy Shirt! (Not to mention that even if you have the $250 we charged for an Easy Shirt, you can't get one — as we sold out of them long ago.)
It's perhaps the most comfortable polo we've ever worn. Fits true to size.