Q: I just found your site and I am pretty thrilled someone is finally calling out the rules. I am a big guy so I tend to pay attention as much as I can to look good. I have just accepted a new position as a director at a cool museum. One of the largest and most prominent. My co-workers dress well and I need a primer for what to buy as far as basics. I want to dash the old frumpy look of a security director and add the young flavor and style to compliment my new administration.
—Phill
A: Congratulations on your new gig! Follow our advice, and you'll be on the path to a wardrobe that may even have your colleagues in Acquisitions & Accessioning looking to preserve for the edification and delight for future generations.
Since you said nothing about a budget for this endeavor, we suspect that's not a major concern or constraint for you. But since you're starting from scratch, and don't have a firmly established idea of what you'll like best or what works for you, we're going to steer you toward options that represent good values.
Our point: When you're starting out, you want the freedom to experiment, without worrying about potential sunk costs and buyer's remorse. Or to put it another way, when you start golfing, you shouldn't buy Pro V1s until you've reached the point where you are no longer sending multiple drives into the woods and water every round. Develop your swing, then step up to $6 golf balls.
Okay, that's enough context. Without further ado, here's the MB Sartorial System — Young Museum Director Version (Fall/Winter). See below for assembly instructions.
SUIT [1]
charcoal grey
When you and the mayor cut the ribbon for that new Impressionist wing, you're going to want to wear a suit. As you may have read, we're big fans of two-button charcoal grey ones. And you're in luck because Century 21 (our new favorite site, right up there with YOOX) has this Ralph Lauren version, likely in your size and with functional buttonholes, for just $220. (15 bucks off with code JOINUS31 for purchases over $150.)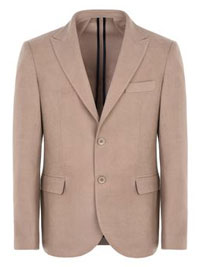 BLAZERS [3]
1 velvet, 1 corduroy, 1 plaid
We've found this to be a winning combination of F/W textures to accompany the shirts and pants you'll see in a minute. Our go-to YOOX brand for value, 8, wants just $109 for their camel velvet version. (Choose one size up.) For the others, just make sure they meet our blazer requirements.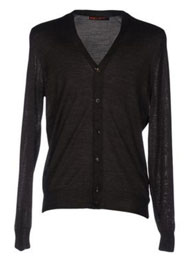 SWEATERS [2]
1 v-neck, 1 cardigan (both merino)
For under one of those blazers or alone on Casual Friday, you're going to need a couple of sweaters. A brand we recently discovered — and love — that provides perhaps even stronger value that 8 is +U Plusultra. Yes, its name sounds like a condom brand created by a marketing AI optimized for redundancy. But their cardigans (again, likely in your size) are now just $46.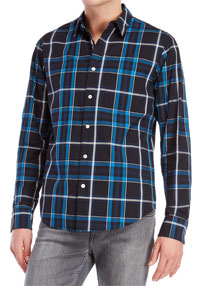 SHIRTS [4]
1 white, 1 blue, 1 gingham, 1 plaid (all point collar)
Getting this right is key for a fully functional system. The white and blue shirts cannot have button-down collars, because you may use them with a tie (the gingham and plaid are fine with buttons). These days point collars are an endangered species, but hang in there and don't settle for a spread or cutaway that both fattens your face and will be at resale shops shortly. Century 21 has this Steven Alan plaid for a ridiculous $25 as a starting point.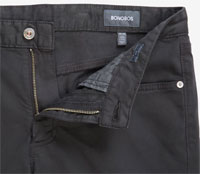 PANTS [3]
2 brushed/moleskin, 1 corduroy (all 5-pocket)
It doesn't take a very stable genius to recognize that regular trousers on a big guy can send you into Trump territory fast. But that's not the only reason to go the 5-pocket route. 5-pocket pants are also more comfortable and modern, and can easily be dressed up for your new role. While Bonobos' version is more expensive than most of what we're recommending here, its straightforward style and overall utility make it a very safe investment.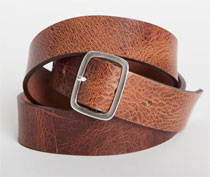 BELTS [1]
We're normally not ones to toot our own horn, but we have created a belt that is not only a work of art, but will work with every system combination herein, including the suit. It's the 300-Year Belt (either in Classic or High Plains Noir), with a sterling silver buckle handmade by Arizona-based artist Mary Daugherty. (Free Secret Agent Belt with purchase.)
TIES [2]
OK, so maybe we are ones to toot our own horn. Both The Cosina Veloce and The Kakutani bring unique textures and a rakishness to the system on dress-up days. (Wear with both the white and blue shirts.)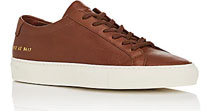 SHOES [2]
1 shiny, 1 matte (both sneakerized)
Perhaps the easiest way to dump frumpy security director is via footwear. We've rhapsodized often about shoe sneakerization, and for both pair recommend splurging on something in the Common Projects vein, like these Common Projects dark brown will work with everything but the suit.
So, not counting the suit separates or the ties, this system provides 60 different permutations of pants, shirts, and blazers/sweaters. Throw out the handful that don't jibe (like the corduroy pants and corduroy blazer) and you still have enough variety to keep you going until spring, when we can do this all over again. Thanks for the question. It was fun.
Good luck on the new job!