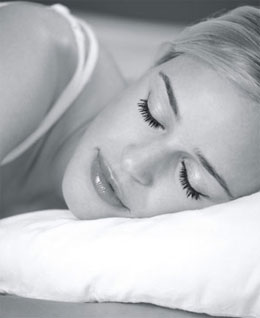 Q: Just broke up with my girlfriend, so now it's a new apartment, new bed, new bedsheets. Checked the first two off my list, but stuck on the sheets. What does an MB sleep on at night — Egyptian cotton, silk, cashmere? Please advise.
—AF

AF, some people look at sleep as an opportunity to just lay around all night and accomplish nothing. To be honest, we used to be that way too — until we discovered SHEEX luxury performance bedsheets. Made from the finest professional quality athletic fabrics, SHEEX bedding breathes 50 percent better than traditional bedding and transfers body heat twice as effectively as cotton. We're not sleep scientists or anything, but we estimate that we're sleeping at least 50 percent harder than we used to sleep, and we're definitely waking up more refreshed and alert than we have in years.

Needless to say, these things also perform awesomely when you score a hot, sweaty chick at the club and bring her back to your place. The quick-dry engineering built right into SHEEX wicks moisture away from her skin, so you can get your grind on without having to pull out every move from your MMA playbook just to keep her from sliding off the side of your bed. Plus, no fighting over who sleeps in the wet spot, because SHEEX wicks away wet spots up to 75 percent faster than traditional cotton bedding. We could tell you more about SHEEX's 4-way stretch microfibers and the unrestricted movement they facilitate, but we want to keep this post relatively safe for work.