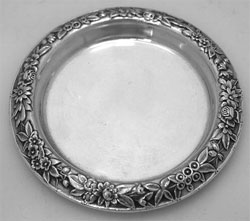 Q: I recently upgraded the desk in my den to a nice hardwood number and realized something while pouring myself a congratulatory drink - I need coasters. A lot has been said about what to drink and when, but what do you put them on? Stone? Wood? Plain glass-sized napkins?
--Adam

A: Adam, the principle of organic materials extends beyond your wardrobe to your home, too, and that definitely includes your choice in coasters. Stone surely qualifies, as does wood, but wood on wood is too matchy-matchy; and cloth napkins, while requiring laundering (and folding), are a tad too tea party.

No, this is your den, your man cave. It's the place where you pay the bills, watch sports, and gaze up at shelves filled with books you haven't read. You need a coaster worthy of your exclusive one-man club, so go for something vintage, hopefully with a few dings, and clearly one of a kind, like this sterling silver version by S. Kirk & Son, a Baltimore silversmith that dates its beginning to 1815.