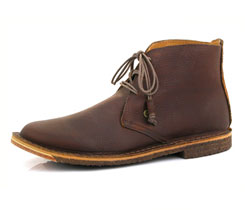 Q: The other day you recommended J Shoes' mojave boots. I noticed they have a crepe sole and was wondering how these hold up in Wisconsin winters. I am interested in a different model with crepe soles for Philadelphia winters.
--Michael

A: Crepe soles were born on British soldiers fighting Rommel in the deserts of North Africa, then in 1950 Englishman Nathan Clark made them for civilians and called them "desert boots." These two facts are both strong hints about the wisdom of wearing them during Wisconsin winters, and intuitively we stow away our crepe-soled boots by Thanksgiving. But just to make sure we asked J. Shoes about it and here's what they said:

Crepe is a rubber latex material that changes with the temperature. It softens in the summer and gets hard in the winter, which means it can be slippery and dangerous on ice.
In our experience, the only footwear not dangerous on ice is a pair of skates, but while we want you in a pair of crepe-soled J. Shoes boots, leave the road slush and ice to footwear that's far more appropriate.