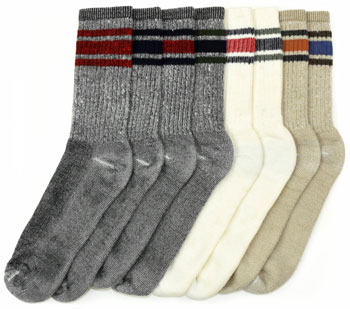 Way back in April the New York Times endorsed American Trench's Silver Crew Socks, noting AT's colorful upgrade to military socks, which are normally limited to "drab olive and other camouflage tones."
They're fine socks. They're even true military spec — which means Donald Trump won't visit them in a war zone — but we believe American Trench makes better socks. In fact, we believe they make perhaps the best socks: The Merino Activity Socks with Silver.
61% wool and 1% silver, which is enough to keep away the stinky microbes, but not enough to trigger a TSA pat-down screening. And they're not kidding about "activity"! They're the sporty sock equivalent of a Swiss Army Knife. We've used them for lumberjacking, cycling, tennis, golf (alongside pants), and even poolside DJing (alongside shorts and high-tops). They're awesome for just lying around, too, especially when when temps are in brown liquor territory.
Why did we wait until Cyber Monday to tell you about them? Two reasons: One, they were out of stock on most of the colorways for most of 2018. Two, they weren't on sale until now: 15% off until 11:59 PST Monday, November 26.