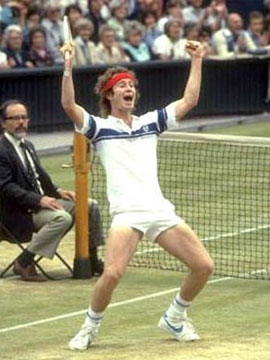 Q: My wife and I have a disagreement. We joined a "walk for charity" the other day. Most of the men were wearing ankle socks with their tennis shoes. I have always preferred the calf-high athletic sock pushed down just slightly to give it a disheveled look whenever I run or work out. My wife is trying to tell me that the calf high sock is out of style and the ankle sock is the new style. I think ankle socks are for women tennis players. While a real man wears calf-high athletic socks. Will you please set her straight?
--Eamon

A: Congratulations, Eamon, on being a lot less wrong than your wife. We see where you're going with the artfully disheveled tube sock look, but would like it better if they've got a stripe or two, as worn by male tennis players. As for your wife's current thinking on men's socks, ankle socks suck. They offer none of the disheveled/vintage benefits of quarter or crew-length, and leave tan lines that trash the exposed ankle look.

Our suggestion is no-show socks. Wigwam, based in Sheboygan, Wisconsin -- a town so completely Wisconsin we invented and then named a cocktail after it -- makes a good no-show athletic sock that's primarily cotton, an organic materials rarity in the age of Dri-release®, Lumiza™, Coolmax®, or other new-fangled synthetics that only serve to make our feet sweat.