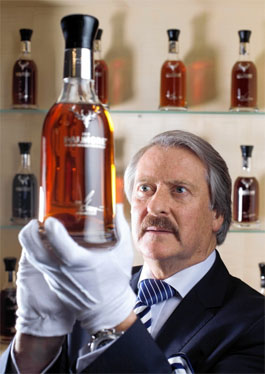 Where are all the thirsty plutocrats? Six months ago, the Dalmore issued the Paterson Collection — twelve bottles of single malt Scotch whisky crafted by Master Distiller Richard Paterson and packaged in crystal decanters with sterling silver collars. The price, as set by British retailer Harrod's: $1.6 million, or roughly $5,695 per shot.
Liquid gold? Hardly. These whiskies are actually about about 4.5 times more expensive per ounce than Glenn Beck's favorite hedge against communism. And about 2 times more expensive per ounce than cocaine.
For $1.6 million, we reckon you could buy at least twelve of Pulaski's finest taverns. But think how hard it would be to wrap and ship Jen's Knaughty Pine or Woz's Polish Pickle to your loved ones?
The Paterson Collection makes for a much more convenient Christmas gift. Or at least it would if Harrod's realized who the target market for a $1.6 million twelve-pack is. Amazingly, the retailer insists that "this product cannot be purchased online." If you want it, you've got to pick it up in person or at least talk to someone on the phone.
Don't get us wrong — we love that kind of archaic 20th century thinking. We also love that the Paterson Collection is so top-shelf it comes in its own rosewood wardrobe.
But we're pretty sure the demographic for $1.6 million hangovers consists almost entirely of 23-year-old Internet broguls. I.E., people who've never seen a shopping cart outside of an iPhone app. Once the Paterson Collection can be ordered with a single click, it will sell faster than a thousand shares of Twitter on its IPO.