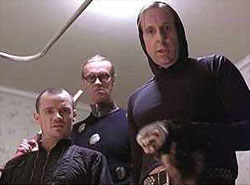 We're not big on New Year's Eve parties. In our view, they're for fucking amateurs. MBs are professional partiers; perhaps even in the direction of having a small problem. (Manageable!) But we digress.

If you're obligated to attend a party, or perhaps it's a birthday party/holiday party combo, here's our champagne guide. The key here: stay above the line for MB-ness.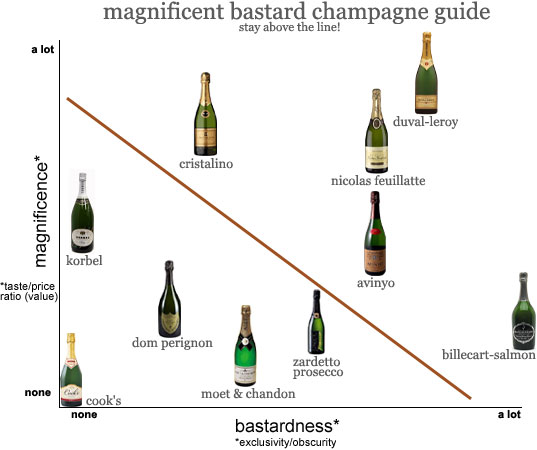 ABOVE THE LINE:

Cristalino Brut Cava NV $7.99
Cavas, for the most part, keep on the good side of the line. Solid value keeps this one constantly available in the wine chiller (Viking or GE Monogram, not U-Line or Haier). If it gets any more popular, though, it may jump the line to join the likes of Freixenet.

Avinyo Brut Cava NV $14.99
Great taste, though at $15 she better be worth it for weekday swigging. Fortunately, it's still obscure enough to keep it Bastard-worthy.

Duval-Leroy Brut NV $33.99
French champagne solidly in the MxB zone.

Nicolas Feuillatte NV Brut $24.95
French champagne solidly in the MxB zone, though not quite as solidly as Duval-Leroy.

1996 Billecart-Salmon Cuvée Nicolas Francois Brut $120
Anything from Billecart-Salmon might make the lady, well, seasonally appreciative. You feelin' us?


BELOW THE LINE:

Moet & Chandon Brut or White Star NV $32.99
Brut or White Star? Coke or Pepsi?

Moet & Chandon Dom Perignon $149.99
Shows up on too many toolbags' January expense accounts.

Zardetto Prosecco $11.99
Though the MB can admit that some mid-priced Italian Proseccos are good, it will take decades before he doesn't think they are all just overpriced Martini Rossi Asti Spumanti.

Korbel Extra Dry $10.99
We'll admit that Korbel can crank out palatable cheap stuff, but it has all the Bastard-worthiness of, well, Cook's.

Cook's Brut $5.99
This sparkling wine from Cook's is well placed in the lower left of the graph, facing the corner.