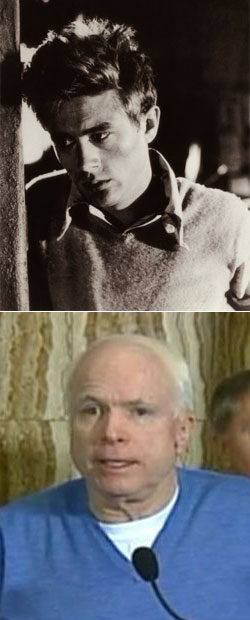 Q: Dear MB: I am writing to get your official position on a matter that arose last night between my girlfriend and I regarding sweaters: V-neck or crewneck? My girl (who claims she knows her stuff with clothing) told me to go with a crewneck and steer clear of v-necks if I am wearing a collared shirt underneath, as the V-neck would not be appropriate. I, on the otherhand, I prefer the v-neck and don't care for the crewneck, as it reminds me too much of those John McCain sport coat-sweater-tie combos that he was running around in last fall (sort of an older man's look to me). Does MB have an official preference for v-neck or crewneck sweaters, or am I just a dumb bastard for not listening to my girl?
--Ryan

A: We agree with you and not your girl. When Paul Newman died last year, we cited his v-neck-woven shirt combination as his life's greatest achievement. And just look at James Dean in a v-neck and woven. This is artful dishevelment defined.

As a side note, John McCain typically did do the coat-sweater-tie combo until, hopelessly behind late in the campaign, tried the v-neck look with disastrous results.