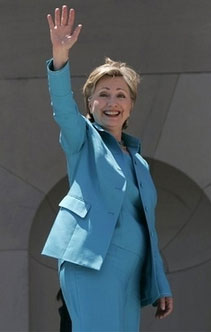 Hillary Clinton returned to the U.S. Senate yesterday, and according to National Public Radio's David Welna, appeared in a "resplendent turquoise pantsuit." Don't be fooled. This is just a politically correct public radio euphemism for "ass-ugly granny wear."

The American people have somewhat clearly spoken: Anyone who dresses like this simply cannot be president.

EARLIER: Hillary in a different turquoise getup nearly one year ago.