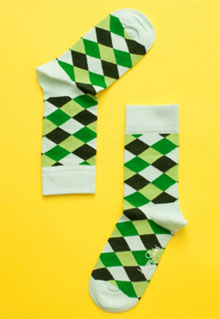 Q: I have a job that I'm able to dress pretty casually to and therefore wear jeans a better part of the time. My question is this, if I'm wearing something like the beloved Pumas, which may be something other than black or brown, what color of sock is appropriate? I was taught to match the sock with the pant? Does this mean blue socks? And if so, where can I find a respectable pair of socks?
--Dave

A: No, Dave, it does not mean blue socks. We're not really into sock-matching in trouser situations, and with denim no rules apply, except of course the immutable rule that white socks are for athletic activities (and no, Obama, it does not include throwing out the first pitch).

We've mentioned this before but we really dig Paul Smith socks. Each spring and fall he adds just the right seasonal touches with material, color, and style. Unfortunately they retail for $30/pair. A more affordable option we've been happy with is Happy Socks (pictured), available from Gent Supply Co. for $10.50.