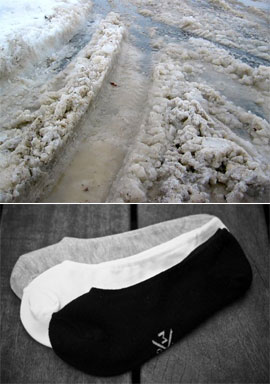 Q: What color socks should I wear with my white TST sneakers and dark-blue AG jeans? What's the underlying principle here?
--John

A: John, you've got superb taste.

Where we're from, white sneakers are on about the same wearing calendar as white pants -- Pulaski road slush really does a number on them -- which means the weather almost always calls for exposed ankles with this shoe-pant combo. But don't spare the socks. Even encased in stylish Japanese sneakers, feet without socks stink worse than Van Halen without David Lee Roth.

We've worn these for years and therefore highly recommend Banana Republic no-show loafer socks. They're now discounted so if you buy 3 or more pair they're just $5.43 each. (Choose white for this use, of course.) Another option (that we haven't tried) is young entrepreneur Philip Bunting's Mocc Sock & Co.'s version (pictured), which also come in gray and are only slightly more expensive than BR.