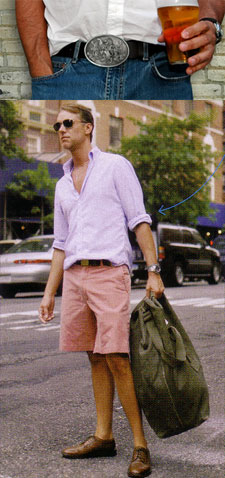 Q: I was curious if it was appropriate to tuck just the front part of one's shirt in his pants, thus exposing his fashionable belt buckle. It is so clearly depicted on the front page of the site. In fact, it is almost luring me towards such mentioned behavior. So I ask: Appropriate, or Toolbag-ish? That is the question.
—The Buckler

A: The banner photo doesn't show it, but the white shirt is fully tucked in save for that wisp to your left. It took the Magnificent Subject and Magnificent Photographer's Handlers about 20 minutes to achieve the precice amount of artful dishevelment for that photograph.

Also pictured is Michael Bastian from the August GQ. He, too, with a fully considered amount of artful dishelvelment; and he's about the best designer going right now.

Hope that answers your question, asshole.