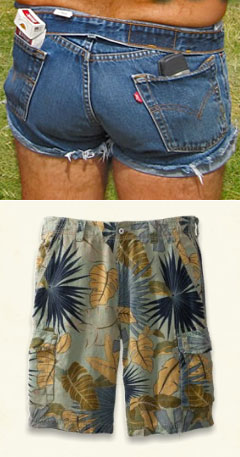 Q: Based on this link I'm pretty sure this proves that plaid shorts are post-peak. I've loved my plaid shorts from Penguin and the like for 3 or 4 years now but I think the style is over. What are alternatives for shorts in summer if Tommy Bahama has taken to plaid short production?
--Bradley

A: One word, Bradley: jorts (top).

Just like Eddie Van Halen's toolbaggish, sleep-inducing, fret-jerking in "Beat It" couldn't kill the guitar solo, Tommy Bahama can't kill plaid. Next season they'll be back to florals (bottom). Wear the Penguins and the like without fear.