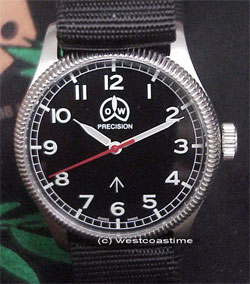 Q: I'm looking for an MB watch that won't break the bank (I've got about $300 to spend). Show me what you got.
--Gerard

A: Browse through our watch channel and you'll notice we're partial to military/military-inspired watches. They're simple, understated, affordable, proportional to most wrist sizes, and go with just about everything.

Our all-time favorite watch in this style is the Ollech & Wajs Kartargo ($399). If you can swing the extra $99 this is a fantastic watch. If not, look at this WWII vintage O & W with the Swiss ETA-2801 movement ($248). The automatic version is sold out and production of it has stopped. This manual version is still available in limited quantities. It requires daily winding but that's part of its charm. If you like what you see, act sooner rather than later, as it will sell out eventually too. With the spare change you can buy a strap or two, perhaps the the gray and black stripe "Bond strap" worn by Connery (with a Rolex Submariner) in Goldfinger.