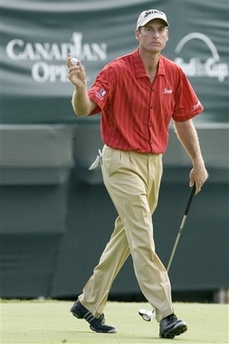 Recently we called Tiger Woods the world's 2nd-worst-dressed golfer, and a few people emailed wondering who's No. 1 (so to speak).

Almost on cue, Jim Furyk wins the Canadian Open yesterday, in double-pleated pants and his signature tucked-in camp shirt that looks like pajama tops.

We're wondering where one can even buy something like that, besides the sleepwear section at Macy's.