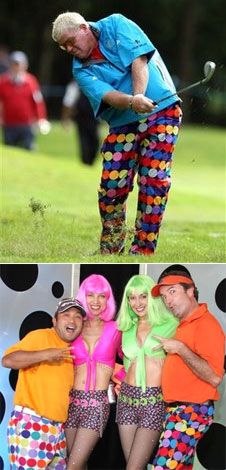 We're all in favor of bringing back some '70s style to the course -- the MB in the header photo is wearing vintage flowered Lilly Pulitzer shorts -- but Scott Woodsworth's Loudmouth Golf is an homage gone horribly wrong:

Top: John Daly at the BMW PGA Championship at the Wentworth Club, England, over the weekend in Loudmouth Golf's "Disco Balls" pants. Looks like a clown's pajamas.

Bottom: The "Chicks Dig Loudmouth" photo gallery is a toolbag extravaganza.