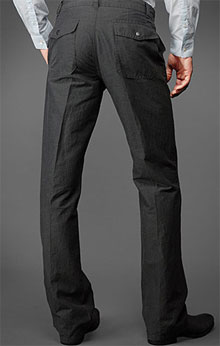 Q: I like the darker colour of these John Varvatos linen/cotton blend soho pants better than the 100% cotton versions that MB recommended a few months back.

But knowing linen's terrible tendency to wrinkle (these are 53% linen) I'm prevented from clicking the buy button for fear of looking like I've cruelly robbed the trousers straight off the legs of a style-conscious hobo.

No less a figure than H.P. Lovecraft is reputed to have discovered a long forgotten fabric treatment that prevented linen from wrinkling, however the side-effects were horrendous...

So, failing the precise execution of a Lovecraftian material trans-mutation ceremony enacted in the tomb of an Egyptian Pharaoh; 53% linen fabric OK, or not OK?
--Tadgh

A: Despite our extreme prejudice against 100% linen, linen blends can work. In general, we prefer that whatever material the linen is being blended with retain at least a 51% ownership stake, so you're tempting fate with those particular pants. But if you're feeling lucky, go for it.