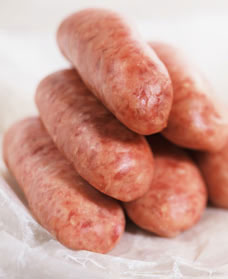 Q: I work out a lot and am quite muscular, and I have a 32 or 33 inch waist, but most pants are cut for guys with much slimmer legs than me. My bulging thighs look like sausages in pants that otherwise fit me fine. Any tips, besides wearing Zubaz?
--Sam

A: To paraphrase German politician Otto von Bismarck, there are three things it's best not to see being made:

* Laws
* An MB's legs getting turned into sausages, and
* A guy getting into a pair of Zubaz

Sam, first thing you need to do -- something every MB needs to do -- is find a great tailor. For your existing pants, if they are dress pants, he can let out the thigh a bit so your rippling leg muscles have room to flex. A better option is to buy your pants a little larger -- to accomodate your bulges -- and have your tailor slim the waist.