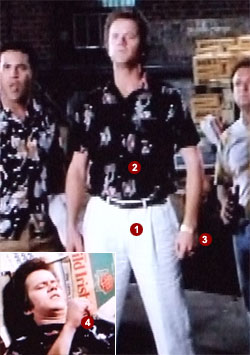 It's sometimes useful to look to cinema for reinforcement of style principles. When the creators of Bull Durham wanted to create a shlubby, clueless rookie pitcher "with a million dollar arm and the 5-cent head" they dressed Ebby Calvin 'Nuke' LaLoosh in:

1. Pleated, linen pants. (Note the wrinkles!)
2. Tommy Bahama-style camp shirt.
3. Shiny gold watch and ring.
4. Pinkie ring.