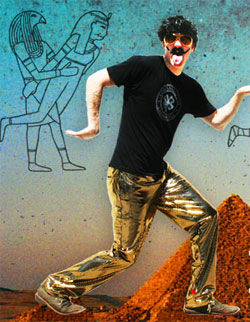 Magnificent Bastard sponsor Betabrand/Cordarounds launched their "7 Deadly Sins" line with the Gluttony Pant, believed to be the first pair of pants to ship with a large cloth napkin.

For Envy, they're auctioning off a 3,000 year-old pair of pants once owned by libertine pharaoh Smutankhamun, better known as King Smut. With gold disco-ball exterior and lined with a pornoglyphic print, we agree: the winner will surely be the slobbering envy of every trouser-wearing man on the planet.

Current bid stands at $430. Auction ends today at 2PM CT.

Up next: Wrath. Or Lust.