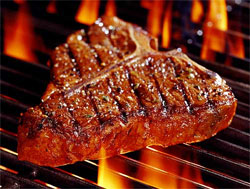 Q: Browsed through your site. You sure know a lot about the TV shows my chick watches. Which guys are you trying to pick up when you go out with your little outfits on? Now go back to watching Bravo with an HIV-infested pole up your backside.
--Tim

A: Tim: fact is, chicks dig us (though probably not yours, and we're pretty certain that's OK). Not just because we mow the lawn, kill spiders, and can grill a steak. Those are the baseline expectations even you may meet. Women also like a guy who knows the difference between Dries Van Noten and Diane von Furstenberg, appreciates high thread-count sheets, and who can offer her an informed opinion on whether to wear ballet flats or sandals with that outfit.

That last sentence probably didn't make any sense, so nevermind. Thanks for reading anyhow.