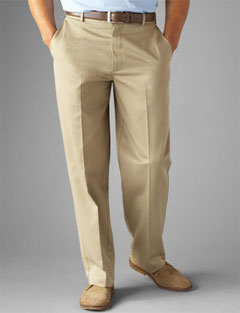 Q: Most of my slacks don't have pleats, but my dry cleaner still presses them with a center crease. I prefer no crease for a clean flat front, and instruct the dry cleaner to press "no crease" - but they can't get it right. Every time they press a pant I have them redone without the crease. Is my dry cleaner stuck in 1980 or do I need to adjust my no-crease look?
--Moxie

A: Moxie, your style instincts are good, but we have doubts about your resolve. If your dry cleaner can coerce you into changing your style, what is going to happen when you have a wife?

We are strongly anti-crease in virtually all situations, and don't even consider buying pants unless we think we can get the crease out. You need to get your dry cleaner on the no-crease plan or find a new one who is completely fluent in English. They will be lazier than newly arrived immigrants looking to impress, and happy to keep your pants creaseless.