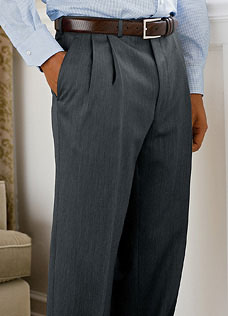 Q: Have pleated pants gone out of style? Are they better for hiding my fat belly or not?
— Scott

A: Yes. Not.

Nothing personal, Scott, but where in the hell do people get the idea that pleats hide fat bellies? Pleats are extra material, puffing out in the wrong place, that actually make you look fatter than you actually are.

The only time we've ever seen successful pleat implementations is on short, slight, thin MBs trying to look a little bigger and older than the real thing.

Stick to flat-fronts, make sure they fit properly, and hit the damn treadmill.