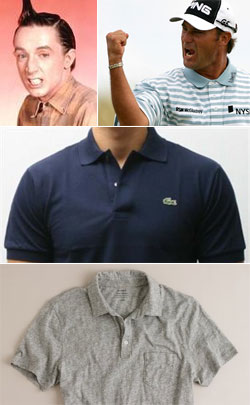 Q: Polo shirt buttons. Buttoned to the top? Button the bottom one? Keep 'em all open? I'm thinking keep them open or button the bottom depending on how far down the shirt they go. What is MB polo shirt buttoning policy?
--Jay

A: Buttoned to the top? Most definitely not. Too reminiscent of Ed Grimley (albeit in a woven) or certain toolbaggish PGA tour players. Otherwise, Jay, you've basically got it. The Official Magnificent Bastard Polo Shirt Buttoning Policy is as follows:



Where n equals the number of buttons. A fully unbuttoned Lacoste polo (2 buttons) looks perfect. A fully unbuttoned J.Crew polo (3 buttons) looks a shade TTH, which is why it's displayed on their site in n-2.