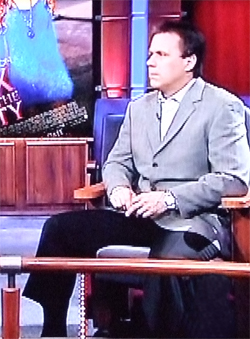 Poor guy is nearly 50 and looking increasingly weird and bewildered with spiked hair and the occasional t-shirt under blazer look. On this week's Ebert and Roeper he demonstrates a couple of don'ts:

Don't #1: 3-button blazer; buttoned while seated.
Don't #2: Pants hemmed looking like he's expecting Category 5 hurricane.

Another knock: poor guy recommended Speed Racer, the worst movie of the year by miles.