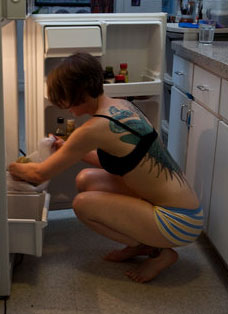 Q: My husband and I are visiting NYC this summer and have reservations at an upscale restaurant that requires jackets for men. What jackets/blazers do you recommend that can be worn with non-jeans without looking like a total toolbag?
--Melissa

A: A jacket requirement at a time when the record-breaking NYC heat is forcing at least one Prospect Park woman to cook dinner in her underwear is reason to instead consider, say, holing up in your air-conditioned hotel room and ordering room service.

If you do decide to venture out, we hear what you're saying about matching blazers with non-denim. While nearly 100% of blazers go with blue jeans, the success rate with trousers is no better than 10%. Unless they're white. White pants are nearly denim's blazer-matching equivalent, so rather than go shopping for a new blazer, find him a great pair of white pants (and they're all on sale now).