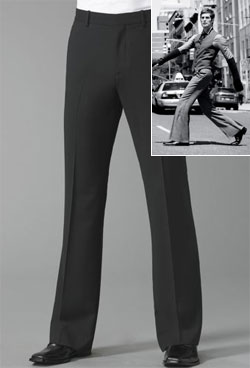 Q: I love flat front dress pants that appear to have a slight flare at the bottom of the leg (think "Doug" in Mind of a Married Man). But, I have a difficult time finding the cut and fit. I have a great pair by Theory, they are totally MB. Can you point me towards any makers with this fit? Any thoughts on this look?
--Rich

A: Rich, you indeed are an MB. Theory's slight bootcut dress pants make most men look great, and perhaps because of this, fellas have a little extra swagger in their step when they wear 'em. Heck, look at the MB-style pose of the model in this picture! One thing we do not and never will understand is the slim/skinny pant trend, which seems to be peaking (hopefully) in Fall 2008. About 5% of the male population can make this work satisfactorily, and 4% are under-fed hipster doofuses who play in some crap band. For the rest of the guys out there, all this cut accomplishes is making their ass look big.

Anyhow, finding what you want in the slim tsunami is difficult, but John Varvatos is a good option (inset).