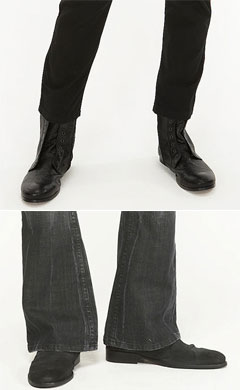 Q: I've noticed that certain combinations of shoes and pants lack the seamless blending/transition at the overlap, such as flare pants with skinny width shoes. Are there any tips to get the right balance? See Exhibit A (top) and B (bottom).
--Mike

A: It's only January 7th but we're pretty sure this will be the most astute observation made all year. Well done.

While our answer should probably take the form of a pseudo-scientific chart, the only tip or guide you need is to follow the architectural principle of proportion. Or, why wearing narrow-outsole sneakers (like a Puma Roma) with bootcut denim feels totally weird.

Similarly, a jacket's lapels and tie should be of like widths. A big part of the problem with the skinny trend (RIP) was the poor bastards who merely dipped their toe in and bought a skinny tie to wear with a traditional-width lapel suit. Like so many breast enlargement surgeries, it looks wrong, and there's a reason why.