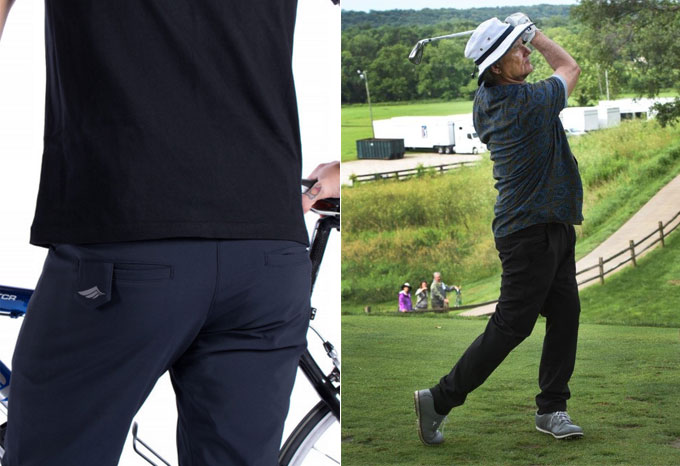 Regular readers know our affection for Naked and Famous's Snow Pant Denim, indigo jeans designed for the slopes that double as terrific daily cold-weather biking trousers.
Unfortunately, eBay sightings of these long-discontinued pants are rarer than a David Brooks fan at a Donald Trump rally, and here in Minneapolis, winter is sticking around just as stubbornly as John Kasich. We need some more warm cycling-friendly pants.
Enter Makers and Riders' brand-new 3-Season Dispatch Rider Jean.
Honestly, we never imagined we would ever approve of a product made out of "exclusive AeroFleece." But when we saw that Bill Murray was a fan, we figured we'd give them a chance.
Decade after decade, Bill Murray has rarely steered us wrong — and he hasn't this time either. While we don't quite like the Rider jeans as much as we like Caddyshack, we'll put them right up there with Rushmore, Quick Change, and even Groundhog Day. Which is to say, we like them a lot.
Clean and simple styling? Yes. Slimming? Yes. Gusseted crotch, anti-chainring tapered legs, tasteful reflectivity? Yes. Yes. Yes.
They won't work for sub-zero commutes, but with a pair of long underwear we've been plenty comfortable down to 10°F. Without long underwear, we reckon we will wear them into the low to mid 50s, at which they'll be too hot and we'll switch over to shorts.
Like the Snow Pant Denim, the Rider Jeans are versatile. In the same way that Bill Murray was designed for comedy but can handle straight dramatic roles with great skill, the Rider Jeans, designed for cycling, are also awesome shoulder-season golf pants. As Mr. Murray himself has discovered. (You didn't think he was biking to work, did you?).