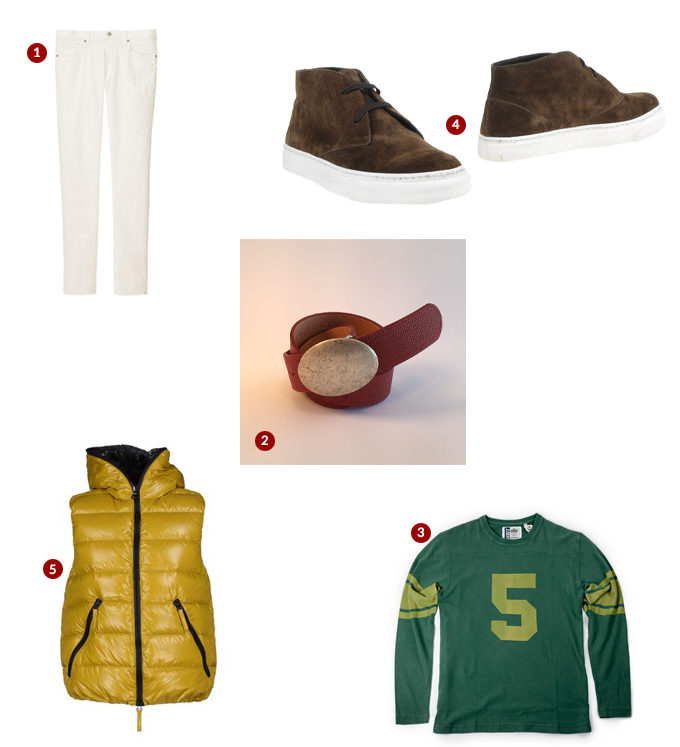 Our annual pilgrimage to Lambeau is expected to be colder than we were expecting, with a high of just 52 and low near 40. So we're getting dressed. (As always, check Pourcast to determine what cocktail to be consuming at any day and any time at any place around the globe.)
1. Pants. The best 5-pocket corduroy pants we've ever worn are Uniqlo's Slim Fit Corduroy Jeans. Indeed, you have to be slim and fit to wear these, but as the product description says, they do in fact "create slender, fashionable lines," work during the week, and have the versatility to play on Sundays. We're wearing them in off white. A tremendous value at just $39.90. They're vanity sized about 1 inch in the waist (so size down).
2. Belt. A critical element of our understated fandom gameplan is our own Game Day Belt. Made from the same Horween leather that's used to make the official NFL footballs, and constructed right here in the Twin Cities. Fits perfectly true to size.
3. Shirt. Five years ago we all got this Red Jacket long sleeve anti-jersey and they're still playing in the league. Yes, there is some legibility on the back, but it's the name of perhaps our favorite Packer and MB archetype Paul Hornung, famous less for his football than for his womanizing, drinking, and gambling. Fits true to size. (Lots of other options available from Mike Ditka to Johnny Unitas.)
4. Shoes. Sneakers and exposed ankles are usually the play call for mid-October Packer games, but given the forecast we're audibling into ankle boots. Since our all-time favorite TST chukkas have seemingly gone the way of Peyton Manning's arm strength, we're substituting them for these Joyks with beautiful thick white rubber whitewalls. (We may additionally substitute free-agent white laces.) Fits fractionally small.
5. Vest. We have a thing — bordering on fetish — for goose-down puffer vests. 313, Montecore, and Marville provide the best value, but if you have the cash Duvetica is the way to go. This version — along with a Hall of Fame headbuzz — will stiff-arm the dramatic post-game cool-down, and the blue-and-gold color combo is a subtle, tasteful nod to the Packer throwback jerseys (which the team will be wearing on Sunday). We always size down one for puffer vests, and this is no exception.