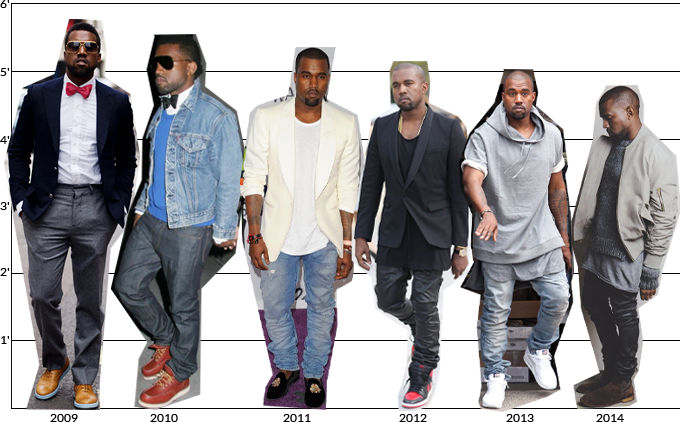 In reality, Kanye West is a reported 5' 8", i.e. just a tiny bit shorter than the average U.S. male. And yet despite his statistically confirmed averageness, West, who appears on the cover of the August GQ, is also a rare example of a celebrity who apparently aspires to be smaller than life. Over the last five years, we've watched in puzzlement as he has shown an increasing attachment to an extreme form of sartorial foreshortening. The deadly combo?
* Tshirts that cover more leg than any dress in Miley Cyrus's wardrobe.
* A "bunched" pants aesthetic that should be left to Sharpeis.
* High-tops.
Decreasing the apparent length of your legs from both above and below frequently results in a highly identifiable visual brand — as both the Oompa Loompas and Mr. Magoo can attest. But while it works for them, are these really the role models Yeezy wants to emulate? Unless you are a grotesquely adorable cartoon character, we discourage this method of dress.
See the full-size, shrunken-down Kanye West from the August 2014 GQ here.