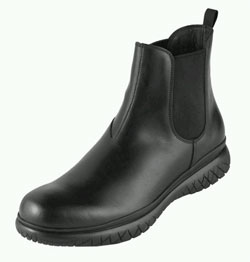 Q: What pair of boots are those in your header?
--Justin

A: Prada Linea Rossa Novo Calfskin Boot, available at Neiman Marcus. $590.

Now before our inbox gets filled with mail saying, "What the fuck are you doing endorsing a $600 pair of boots? I don't have that kind of bread, man!," understand the following MB principle that's at work: Black leather boots are an MB wardrobe staple, and no price is too high for an MB wardrobe staple you love.