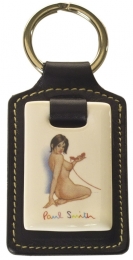 It's an age-old dilemma: What do you get the man who's got everything? How about a pair of cans on his keychain?

Enter Paul Smith, who likes to do this sort of thing. Lovely!

If you're feeling lucky, you can double-down, so to speak, and get 4 jugs for the price of 2 with this BNIB naked lady wallet and naked lady keychain package, via ebay. Current bid: $99.99.