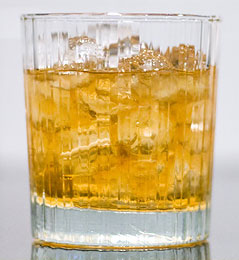 A year ago we warned you of the clear and present danger of the holidays and presented the Basic MB Hot Toddy as an alternative to any drink that contains enough eggs or dairy products that it would make a better omelet than cocktail. This year we've got five more superb holiday cocktail options, one being the holiday version of the Magnificent Bastard, which is nearly as good as the original.

2 oz Bulleit bourbon
1 oz Domaine de Canton
1/8 oz Laphroaig 10-year scotch
2 dashes Fee Brothers Whiskey Barrel Aged Bitters

Combine all ingredients in a mixing glass filled with ice. Stir vigorously for 20-30 seconds. Strain into ice-filled rocks glass.

Like the original MB cocktail, this drink was also invented by mixologist Bryan Swanson, who explained why it's so damn tasty this time of year: "The ginger in the DdC and clove/spice flavors in the Fee Brothers give the drink a nice warming touch. Have it with some gingerbread and it's a holiday."