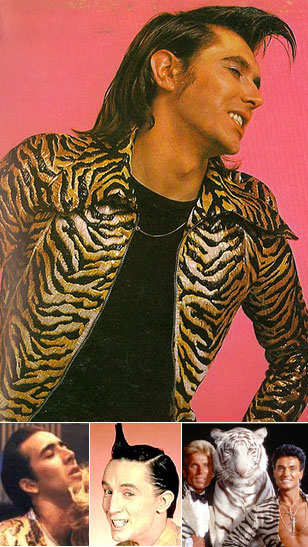 Q: I was just thinking about how Bryan Ferry hasn't ever popped up on this site (at least that I can remember)...I think he deserves a little more recognition than he gets for a few reasons:

1. His music is some of the best made in the 80s. Particularly with Roxy Music. Contemporary at the time but still classic despite the normal pitfalls of the era (very "80s" production, dependence on models gracing the album covers).

2. Impeccable style. Look at literally ANY photo of him. Perfectly rolled sleeves, check. Askew bowtie or loose necktie, check. Commitment to a classic hairstyle for 40 years, check.

3. Dated Amanda Lear, Jerry Hall (BEFORE Mick Jagger), married Lucy Helmore...

4. He's British.

Basically what we're talking about here is the Bond of Rock'n'roll.
--Carter

A: We like the idea of a "Bond of rock 'n' roll" and appreciate the case you make for Ferry. There is, however, the little matter of this photo from 1972, which clearly suggests the influence he would eventually have on cultural icons as diverse as Wild at Heart-era Nic Cage, Ed Grimley, and Siegfried & Roy. That's a tough legacy to overcome, and to be honest, while we know he played a crucial role in synth-pop's evolution as aural tranquilizer, Avalon never made us feel all that comfortably numb. While a better candidate for the Bond of rock 'n' roll doesn't immediately come to mind, we're abstaining from voting for now.