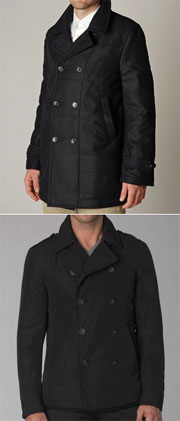 Just like Lexus is in the constant pursuit of perfection, we're in constant pursuit of the perfect pea coat. Two new contenders:

TOP: Extremely expensive, but in order to look good, you gots to pay. Comme Des Garcons Quilted Broadcloth Coat, via Tobi.

BOTTOM: Polyester, but we trust Theory. Theory Dyson Drake Pea Coat, via Saks Fifth Avenue.