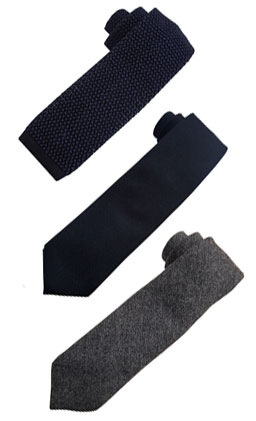 If you've been reading Magnificent Bastard for a while, then you know we don't like skinny ties. Mostly, this is for aesthetic reasons — we always think guys in skinny ties look like unsuccessful suicides who just decided to go on with their day — but there's an economic factor at play too. Skinny ties are skinnier than good-looking, fully nourished ties, and yet they don't cost any less. This sort of thing happens in grocery aisles all the time. One day your favorite cheap Jamaican lager comes in 12 ounce bottles, the next it's down to 11.2 ounces, but the price doesn't change.

In the grocery store world, marketers typically try to keep such penny-pinching under wraps. In the apparel world, it's presented as fashion! We think this charade has gone on too long. We think that you, the tie-buyers of the world, deserve some redress. So we've persuaded one of our favorite tie-makers, Mountain & Sackett, to offer a special 16-day promotion. Now until April 30, you can get any tie it offers* for 25 percent off — including the ones that are already on sale — with discount code MB25. For S/S they've got a nice assortment of silk knits (just $44.62 after discount), and for F/W — it will be here soon — we own the Cedar wool herringbone and the Walker silk/wool in black. Handmade in NYC from fine English fabrics, and a healthy 3-plus inches wide, they're both only $55.50 with the MB25 discount. Why spend twice as much on a tie half as wide? Get them while they last!

* "Autism Speaks" ties not included.