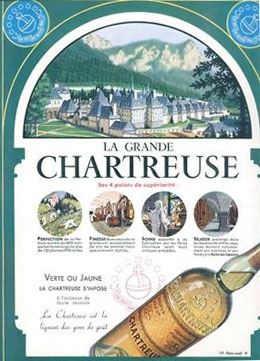 Besides the first sighting of Pulaski's only street sweeper, another sure sign of spring is the local toolbaggery drowning themselves in green beer on St. Patrick's Day. You need to avoid this.

What better time to work on that bottle of Chartreuse standing stoically in the back of your liquor cabinet? It packs more punch than a Shamrock Shake and stays relevant long after your yearly ration of corned beef runs out. After all, it's green because of actual chlorophyll, not green dye #3, and thus it's a great way to toast the change of seasons all month long.

Chartreuse is based on a centuries-old recipe guarded by Carthusian Monks -- wise men, with plenty of time on their hands. This spicy, pungent liqueur has been a favorite of many literary characters, both real (Hunter Thompson) and fictional (The Great Gatsby).

You might even remember one of the finalists in last year's Magnificent Bastard cocktail contest, Xopher Hartman's Sazerac Twist, contained it. Like many cocktails, this recipe keeps the level of Chartreuse low, due to its assertive flavor.

For a cocktail that more prominently displays Chartreuse's unique flavor and color, try the Last Word. This Prohibition-era drink keeps the ratios simple, so it's no surprise it has incredible balance -- unlike the stars of the special St. Patrick's Day edition of COPS.

---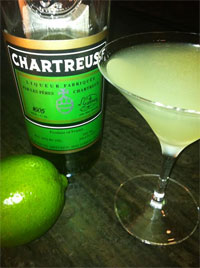 Last Word


* 1 oz Plymouth gin
* 1 oz Luxardo maraschino liqueur
* 1 oz Green Chartreuse
* 1 oz fresh lime juice

Combine over ice, stir for 30 seconds, then pour into a martini glass.












---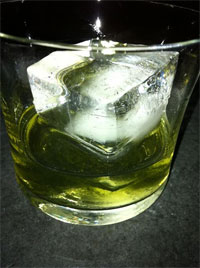 VEP


Maybe best of all, think like a Carthusian monk. Keep it simple. Treat yourself to a bottle of Chartreuse Green VEP (Vieillissement Exceptionnellement Prolongé), which we're pretty sure is French for "the good stuff."

Serve it ice-cold in a liqueur glass. Or, slowly pour an ounce or two over a large cube of ice in a rocks glass. Call it "Lichen on a Rock."