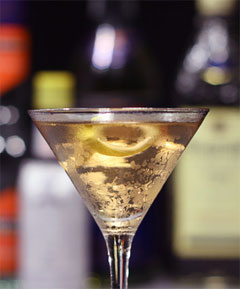 Q: Love your site and you are right on with the boot and tucked in pants deal. My question is about where a gin martini fits in your MB seasonal drink chart. Winter is bourbon and scotch season certainly, but an icy martini does have its place too as the weather gets cold and dark in my opinion. Your thoughts?
--Bradley

A: Regular readers of our site know that the Rob Roy is the MB's year-round drink of choice, but a gin martini is certainly more than acceptable alternative when you need a break from a seasonal overabundance of the brown liquors.

The MB version of the classic martini has a bastardly nod toward the classic origins of the cocktail (dash of orange bitters) but also a magnificent nod to getting the taste right above all else (appropriate amount of vermouth, because the flavor complexity is required, and a slight shaking, because the dilution with water brings out a better aroma and flavor). The modern obsession with an overly dry martini shows little knowledge of what the cocktail needs to deliver. (Sorry Mr. Churchill.)

Going Bradford (i.e. giving it a shake), is where the MB wants to be, though he appreciates the stance of the purists who advocate only stirring. Also, the Gibson version (with a cocktail onion garnish) isn't frowned upon.

MB Gin Martini
4 parts gin (Plymouth or Boodles)
1 part dry vermouth (Noilly Pratt)
dash of Regans' orange bitters

Give the gin, vermouth, and bitters a quick shake. Serve up with a lemon twist.