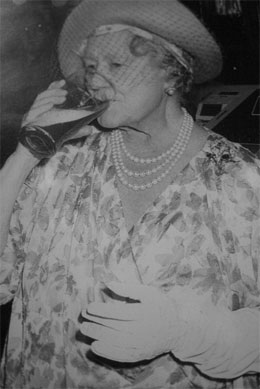 This just in from the Daily Mail: No beer at the royal wedding. Apparently, only champagne is dignified enough to whet Queen Elizabeth's whistle.

Too bad Elizabeth's mum, Her Majesty The Queen Mother, isn't still with us. She liked her beer just fine, as the photo at left illustrates. Even better, it wasn't really an AM summer party for her until the gin and Dubonnet made an appearance, as she wrote in a note which sold at auction for £16,000 in 2008:

"I think that I will take 2 small bottles of Dubonnet and gin with me this morning, in case it is needed."

Strictly speaking, Dubonnet Rouge is an aromatized wine, but we like to use it whenever a sweet vermouth is called for. Its ruby color and spicy aroma will provide a unique twist to any classic recipe. (It goes particularly well in one of our favorites, the Negroni.)

The Queen Mum preferred a weak version of a Dubonnet Cocktail, roughly 2 parts Dubonnet Rouge to 1 part gin. The recipe is quite flexible, though. On really hot days, or days when the royal bloodlines are being diluted even further — a common photographer? — the ratios can be reversed. The classic version, though, has it 1:1. Be sure to include a dash of orange bitters to bring out more complex hidden aromas in the Dubonnet.

Dubonnet Cocktail
* 1 oz. Dubonnet Rouge
* 1 oz. Dry Gin
* 1 dash orange bitters

Combine in ice shaker; shake. Strain into martini glass and garnish with twist of lemon.