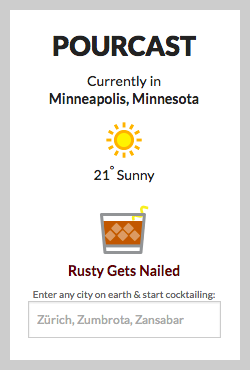 Traditional weather reports are good as far as they go. But if you're in the midst of a killer heat wave, or a tornado is headed your way, you don't just want to know the current temperature or what the wind chill factor is. You want more information. Like what geographically relevant cocktail to drink. And that's what Pourcast provides. You're welcome.
You can't just create an app like this with coding. It took some traveling. And many all-night bouts of cocktailing. In the midst of our development efforts, we started experiencing carpal tunnel syndrome from all the repetitive glass-lifting we were doing. So there are still improvements to make. But we think this is a good first pass at pairing the proper cocktail with your location's temperature, cloud cover, and precipitation.
Pourcast defaults to Minneapolis. But you can use it for any city on earth (including places where alcohol consumption is illegal, so watch your step). Here, for example, are a flight of cities that start with "P" expertly matched with cocktails that complement the weather conditions that were in effect when we made this chart.
| | | |
| --- | --- | --- |
| Paris | 68° Partly Cloudy | Martinez |
| Poughkeepsie | 43° Sunny | Whiskey Manhattan |
| Pyongyang | 55° Clear | Boulevardier |
| Pago Pago | 82° Partly Cloudy | Pimm's Cup |
| Prague | 61° Partly Cloudy | Negroni |
So give it a try. When a drink is recommended, click on the link for the recipe.
We're looking for feedback, so please drop a line to editor@magnificentbastard.com with any issues or suggestions.