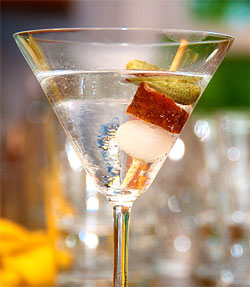 Q: You have previously mentioned a drink named the Sheboygan. As a fellow Wisconsinite and someone who can properly pronounce the eponymous city's name, I would like to know how you make it. Any cocktails you might recommend for an upcoming summer spent on a sailboat or at the waterfront would also be appreciated.
--Brian

A: Though the MB usually enjoys a slightly wet, gin martini, he sometimes finds himself out of gin (poor planning, boy) or at a gathering of friends from the South. Of course, South from our offices in Pulaski, WI might only mean as far as Sheboygan, home of America's best bratwurst. This version of a vodka martini gives tribute to Sheboygan, WI, where they might say that one of these makes a good appetizer, two a meal.


---



The Sheboygan


* 4 parts vodka
* 1 part dry vermouth
* dash of orange bitters
* garnish of a cornichon, slice of grilled bratwurst, and pearl onion placed in that order, for top to bottom, on a toothpick

Place garnish into a chilled martini glass. Gently shake (think waltz, not polka) the vodka, vermouth and orange bitters with ice; pour over the garnish.


---

A couple of keys to ensure this drink is at its best. First, use a high quality, authentic bratwurst from Sheboygan. You can experiment with other sausages, but we do not guarantee success using a substitute: garbage in, garbage out.

It's best to use a warm bratwurst to give the fullest flavor. If it's not fresh off the grill, microwave for 15 seconds to perk it up. Also, make sure you pour the martini over the garnish so you get the drink a little oily, just how the MB likes his ... cocktails.

Finally, for whatever reason, this version of a martini tastes best using potato vodka. We use Chopin. This may be due to our Sheboygan friends being classic "meat and potato" kind of people. Whatever vodka you choose, make sure it's worthy of the MB, and more importantly, the quality bratwurst.