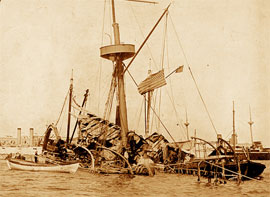 If you enjoy a good whiskey drink, how about the Remember the Maine? Totally old school, great for the fall, and a drink named after a battle cry? Not too shabby.
--Juany

A: We heartily endorse the Remember the Maine, though we'd feel a lot better about the cocktail if the Spanish had actually been responsible for sinking her.

Anyhow, after some Googling we came across a pretty excellent video from the LA Times Magazine demonstrating how to make a Remember the Maine, by Eric Alperin of The Varnish, a new speakeasy on Sixth St. in downtown Los Angeles. (Skip the atomizer, however, and simply swirl the absinthe. Definitely TTH.)

Ed. note: We will soon be embarking on the quest to create the Magnificent Bastard, a cocktail that will one day take its place alongside such legendary balms as the Rob Roy and the martini. And we'll need your help. Stay tuned for details.